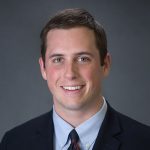 Bennett Wade
Lead Agent, Associate Broker, Listing and Buyer Agent, REALTOR®
A little about me
Bennett was born and raised locally in Freeport. He graduated from Freeport High School in 2011 and from Colgate University in 2015. He currently lives in Gray with his family. Bennett and his wife Kathleen can be found hiking, gardening, climbing, sailing or skiing all over Maine's mountains, islands, rivers and forests any time of the year.
In 2017 he joined the L'Heureux group as a buyer's agent and became lead agent for the team in 2020. Bennett has sold over $8,000,000 worth of real estate since entering the business. He specializes in island and waterfront properties on and around Casco Bay and first time home buyers in the Greater Portland area. From investment properties, to estate sales, to new construction, to homes older than the state of Maine Bennett has seen a little bit of everything and can help you with whatever it is you need from real estate. Ensuring that clients get the most out of their real estate transactions requires creativity, experience and dedication all traits that Bennett brings to every transaction he is involved in. He assists people who are not yet ready to buy or sell, who are in the midst of the buying and selling process and those who have previously purchased and sold homes with him to ensure that everyone has their real estate needs met.
The L'Heureux Team loves local businesses! As members of the communities where we live we always aim to patronize other local businesses. Bennett can be found picking up a coffee at Coffee By Design, a Cupcake from Scratch Bakery or a bowl of noodles from Pai Men Miyake.
He is an avid supporter of Maine's craft beer and spirits industries and while he rarely finds a locally made drink that he doesn't enjoy he is particularly fond of the Maine Beer Company for his Beer and New England Distilling for his spirits. Bennett considers himself a part time tour guide for Maine along with his full time job in Real Estate. If you ever need a recommendation he's the guy to ask.